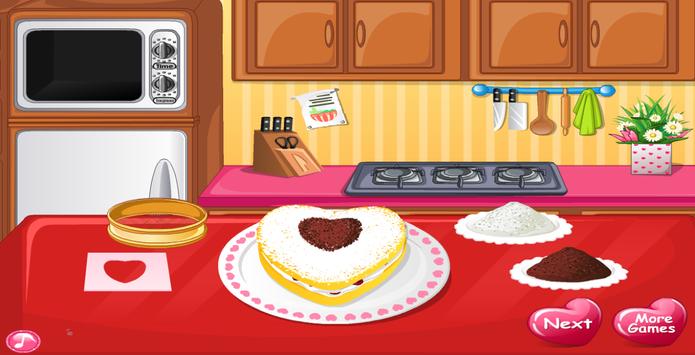 Hey boys and girls , do you like cookies and cakes ? Sure you like them, you are a kid who loves chocolate and fruit. And if you like cookies then of course you like and birthday parties where you can eat a very delicious cake. If you want to help a child whose birthday is today you have to help us prepare a big and tasty cake. Through this chocolate cake cooking game you will be able to prove everybody that you are a great friend but also a very good cook that can make the best looking cakes ever !
We want the party to be a very beautiful and all friends of our son to be happy. If you want to help some children of the same age with you to have fun with you please respect the instructions of this cooking games for girls.
In this game you have to prepare a cake for your friend's birthday. We are not so good in making cakes, so we need you. The cake will have three floors and each floor and cream you will have to choose or what bakery items to put on it. First, you must choose the cake base. You can choose a countertop made of chocolate, vanilla, strawberry, cherry, kiwi and banana. After you choose the cake dough, you must choose the preferred model on which we put on the cake, polka dots, twigs, ice crystal, crown or necklace of hearts. After choosing the model you have to choose and cream to put on this wonderful cake. You can choose between different creams, vanilla, strawberry, cherry or orange. Still you need to put them and some balls of whipped cream: strawberry with whipped cream, dark chocolate, vanilla, strawberry white chocolate raspberries or cherries. Now you have finished the cake base and you must make the second floor. Again you have to choose another floor. You need choose again for the second floor cream, vanilla, chocolate, strawberry, raspberry, cherry, kiwi and banana. After this you have to put this cream and after that you have to finished the second floor. Follow the third floor which is all the same as the other 2. The cake is ready and we hopes to go to our friend.
1) First you will have to go shopping, this consists in selecting all the ingredients that you need, they are: flour, baking powder and vanilla extract;
2) Turn the stove, place a pan on low heat and place the cream in the pan;
3) In a bowl you must add: chunks of melted chocolate and cream, mixing well;
4) In another bowl you must add: pieces of butter and sugar, now you have to mix;
5) Now in a bowl you must add: flour, salt, cocoa, baking powder and vanilla extract in the end have to play;
6) In a large bowl you must add: milk, coffee and water, you need to mix until it forms a creamy composition;
7) Put a pan on the stove and then add the above composition;
8) Over the composition of the above you have to add flour then you must add the eggs and mix;
9) Now you need to enter the dough in the oven, wait a few minutes until it is ready;
10) You must place the chocolate dough;
11) The cake is ready, now you must decorate as you wish.
Thank you for cooking for us today, you are definitely a very good friend and a very good cook. Our child is very happy, he will have to spend the best and most beautiful cake. The party will be very beautiful and you can stay with us, if you want to help us, please come back to help us through this kids games with chocolate cake.
Have fun and bon appetite!
And stay tuned in our next cooking games we are going to prepare some more delicious dishes like :
Cheese Cake
2. Cake Pops
3. Cup Cake
4. Donut
5. Brownie
6. Frozen Yogurt
7. Strawberry Cake
8. Orange Cake
9. Mango Cake
10. Matcha Cake
11. Dark Chocolate Cake
12. Chocolate Chips Cake
13. Strawberry Chocolate Cake
14. Orange Chocolate Cake
15. Milk Chocolate Cake
16. White Chocolate Cake
17. Strawberry Ice Cream Cake
18. Vanilla Ice Cream Cake
19. Mango Ice Cream Cake
20. Chocolate Ice Cream Cake
So don't miss out !
And please if you like our games make sure you comment and rate ! thanks for your visit , and ENJOY !>
What about preparing a quick chocolate cake today? It has to be simply gorgeous and of course, the taste has to be perfect as well. Chocolate cake is flavored with melted chocolate or cocoa powder, yummy!
These Cake games are truly the icing on the cake, prepare everything from the batter to the frosting, and decorate each cake with anything you can imagine! Discover new ways to bake in this Anna Frozen cake cooking game and you will surprise Elsa with a delicious and sweet dessert for her birthday. She loves chocolate cake so much that.
Sep 22, 2018  ApkLizard Editor's Team Note (Android Bake A Cake: Cooking Games 5.0.5) Bake A Cake: Cooking Games Game is developed by girlygames and published in Casual category on 2018-09-22. Bake A Cake: Cooking Games 's latest version is 5.0.5. According to our rating team, Bake A Cake: Cooking Games 's rating score is 0 / 5.
V-Station by Novation (@KVRAudio Product Listing): V-Station is a plug-in version of the hardware K-Station: V-Station sounds can be downloaded into the A or K-Station and vice versa. Liquid analogue sound based on the K-Station sound engine. Powerful 3 oscillator sound engine with Noise and FM capability. Arpeggiator with synchronisation lock. V station vst download. Nov 28, 2018  Not that the V Station is offensive in any way. OK so the V Station isn't going to win any awards now, when compared to the likes of Serum. The V Station is a simple instrument that can make a. The V-Station is a polyphonic soft-synth for Mac and PC. It has the same real 3-oscillator flexibility as the award winning K-Station, with powerful filters, 8-voice polyphony, simultaneous Novation FX. Programming V-Station is simple, because all the primary controls are on the main screen. FEATURES software synthesizer NOVATION V-STATION:. Software plug-in version of the tool Novation K-Station. Farmat plugins Standard VST (PC platform) and MAC Audio Unit, which are industry standards. V-Station sounds can be downloaded on the A-station and the K-station, and vice versa.
Cooking Games Chocolate
Cake, as a delicious sweet food, is very popular from all over the world. Now we provide many cake games for you, hope you can love it. We all like cake, but not everyone can make cake. In these cake games, you can learn how to make a delicious cake. Come on, foodies!
We need to prepare some ingredients at first if we want to make a cake. Flour, eggs, oil are necessary, you can choose some others according to your taste. When we done this step, we can begin our cooking step. You may say I have no idea how to do that. Don't worry, guys, what you need to do is just following our guide and then you can finish this job and make a tasty cake. Cake will not be so popular if it is only delicious, so we need to decorate it to make it more attractive. This is more difficult than cooking because we will not give you advise in this stage, you can use your imagination and decorate your cake as your wish. When you made a cake by yourself, you can share it with your family and friends, or open a cake shop and sale it! Is that sounds exciting? Earn money for yourself.
There are many situations may need cake such as birthday party, family reunion or on new year's day and other festivals. Anyway, be a professional cake maker can bring you many advantages, you may even see the princesses and princes when you make cake for them! Enjoy our cake game, welcome!
There are 444 Cake games on 4J.Com, such as Strawberry Shortcake Sweet Shop, Elsa Cooking Rainbow Cake and Icing On The Cake. We have picked the best Cake games which you can play online for free. All of these games can be played online directly, without register or download needed. We also add new games daily to ensure you won't become bored with old games. Enjoy!