Filter: All games MAC Online
Here you can also find Cooking games. As seen in the name, these games are connected with cooking and a restaurant business. Make hamburgers, pizzas, breakfasts, dinners, cocktails, etc., to feed all the guests of your restaurant, pizzeria or coffee houses. Cooking games intensify salivation and make your appetite better.
Cake Mania 2 - An out-of-this-world adventure.
With all of the savory cooking games that we have, it's simple to adapt your own style and flair to each dish, and show off your new cooking skills. You choose what makes our most Popular Cooking Games list, so be sure to pick the most succulent games that all our fans can sample and enjoy. Download Free Games has been a trusted place to download games since 2002. Our goal is to have one of the most unique selections of quality and fun free game downloads on the Internet. Every Game is Free to Try or Totally Free.
Cake Mania - Bake those cakes as fast as you can.
Hot Dish 2: Cross Country Cook Off - Get into the Gourmet Grand Prix
Bistro Boulevard - Build your own five-star restaurant!
Cake Shop - All the ingredients for a good time!
Amelie's Cafe: Halloween - Take care of the Halloween guests!
DinerMania - The restaurant industry is sizzling—can you take the heat?
Jo's Dream Organic Coffee 2 - Help Jo make coffee at the Coffee Festival!
Happy Chef 2 - Cook dishes from all around the world!
Jo's Dream: Organic Coffee - Help make Jo's coffee shop dreams come true!
Bettys Beer Bar - Barmaid Betty needs your help!
Download Games Cooking Madness
SpongeBob SquarePants Diner Dash - Soak up five-star feeding fun!
Diner Dash Flo on the Go - Try making tips in turbulence!
Spongebob Diner Dash 2 - SpongeBob is back for two times the fun!
Diner Dash: Hometown Hero - Be a hero in your own town
Champion Chef - Help Jenny start her own restaurant!
Hot Dish - Be a world-renowned French Chef by practicing your skills in Hot Dish game.
Family Restaurant - Run your father's restaurant and make him proud in Family Restaurant game.
Ice Cream Craze - Stack and serve ice cream!
Cooking Quest - Find hidden objects, cook delicious meals, and become a master chef in Cooking Quest game.
Jessica's BowWow Bistro - Dish up doggie delicacies!
Yummy Drink Factory - Serve smoothies to fairytale creatures.
Top Chef - Play Top Chef and see if you can be the next top chef!
Gourmania 3: Zoo Zoom - Launch exotic restaurants!
Cooking Simulator Free Download
Become the ultimate chef! Take control of a highly polished, realistic kitchen equipped with all kinds of utensils and stands. Unlock and master over 60 recipes or use dozens of lifelike ingredients to cook everything you like. All spiced up with a dash of real-life physics!
How to use Serum VST PluginSerum plugin has a user-friendly interface, and you can install this Plugin on any DAW. For the best feature go with the latest version available on the internet.For the future musician in Electronic genre, Outrun Synthwave Serum Preset Pack, SBaker's Serum Presets, Dance Leads Vol. 1 are a few top-notch Serum Presets.For creating Dubstep Music, you should go for 50+ Dubstep Presets and Wavetables by Dack Janiels, Dubstep Preset Pack for Serum or Serum Dubstep Preset Pack.For producing Trap Music, use Free Trap, and Brostep Presets for Serum, Serum Trap Presets by SoundShock are some of the top Serum Presets. Among thousands of versions of Serum available, where you can start with the free Serum vst.The link to download the free plugin of Serum Vst is presents on various sites. Serum vst download mac. Inside Serum Presets CollectionSerum Presets is available both as a free plugin and the one where you have to pay.
Game Details
Title: Cooking Simulator
Genre: Casual, Indie, Simulation
Developer: Big Cheese Studio
Publisher: PlayWay S.A.
Release Date: 6 Jun, 2019
Steam:https://store.steampowered.com/app/641320/Cooking_Simulator/
About This Game
Become the ultimate chef! Take control of a highly polished, realistic kitchen equipped with all kinds of utensils and stands. Unlock and master over 60 recipes or use dozens of lifelike ingredients to cook everything you like. All spiced up with a dash of real-life physics!
Key Features:
Career and Sandbox modes
60+ recipes
120+ lifelike ingredients
Perks and skills to unlock
Advanced cooking mechanics
Realistic physics
Your kitchen's got all the gear a chef might need. Griddles, cookers, gas stands, ovens and tons of utensils like pots, pans, plates, knives, spatulas and blenders! On top of that there are over 120 ingredients available in the pantry: meat and fish, fruit and veggies, dairy products and various liquids. There's also a full set of spices and herbs for adding that extra flavour!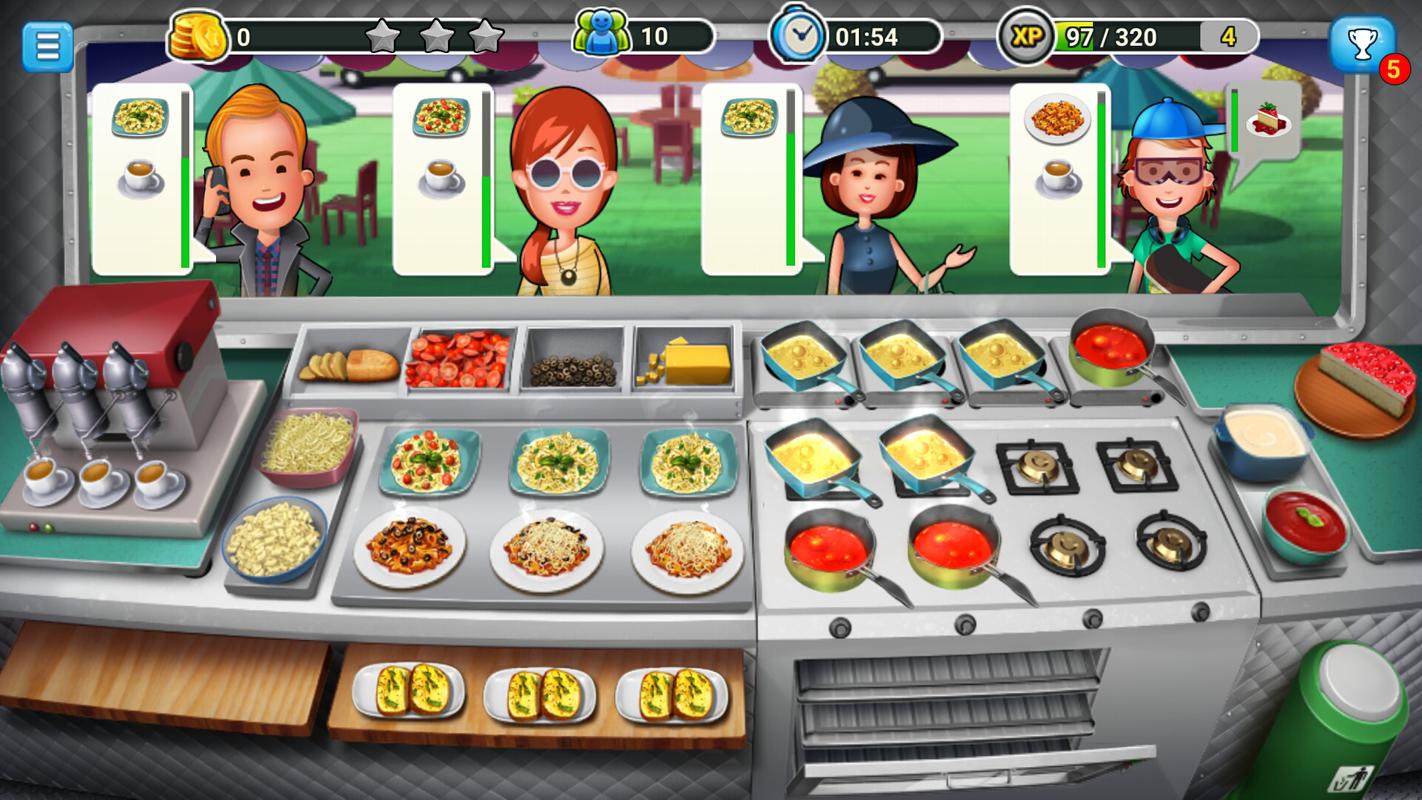 Lifelike cooking experience! All the ingredients respond to your actions by changing temperature, appearance and taste. Every time you're slicing potatoes, flipping steaks or boiling a soup, there are some real-life physics applied to it. Once you learn the cooking mechanics and start serving dishes, you'll see yourself becoming a better chef with every new plate on the checkout.
Career mode is a culinary journey zero-to-hero style and your task is to gain fame for you and your restaurant. You'll start from the basics and progressively unlock new more complex dishes and start serving more customers as your fame and experience grow. Once you master the recipes and workflow, you'll be able to unlock various perks and skills.
However, if you're not interested in playing by the rules, you're going to love the Sandbox mode. Access all the recipes and ingredients and prepare whatever you like without any pressure. You don't even have to cook anything! Game physics gives you unlimited opportunities. Throw knives like darts, set up cutting boards like dominoes, set the whole kitchen on fire, blow up the oven and save the day using a fire extinguisher!
System Requirements
Minimum:
OS:

Windows 7

Processor:

i5 3550 / FX-8350

Memory:

6 GB RAM

Graphics:

GTX 660Ti 3GB / R9 270X 4GB

DirectX:

Version 9.0c

Storage:

6 GB available space
Recommended:
OS:

Windows 10

Processor:

i5 4570 / Ryzen 7 1700x

Memory:

16 GB RAM

Graphics:

GTX 1060 6GB / RX 480 GB 8GB

DirectX:

Version 11

Storage:

6 GB available space
Video Tutorial – Cooking Simulator Free Download
Really I believe that there is not need to record video tutorial. Instructions below are enough. It's simple to download and install it.
Instructions for Cooking Simulator Free Download
1. Download Full Version for Free. Direct link is under instructions
2. Open "Cooking Simulator.zip", next run installer "Cooking Simulator.exe"
2. Install the game
3. Copy files from folder Crack to folder in which you installed the game
4. Now you can play in full version of the game and enjoy it! 🙂
Cooking Simulator Free Download
Portable Version
SOON!
Additional Informations about Cooking Simulator Free Download
Just remember about checking our website from time to time to be sure that you've got the newest updated version. If the game will be updated you will can download Update for Free 🙂